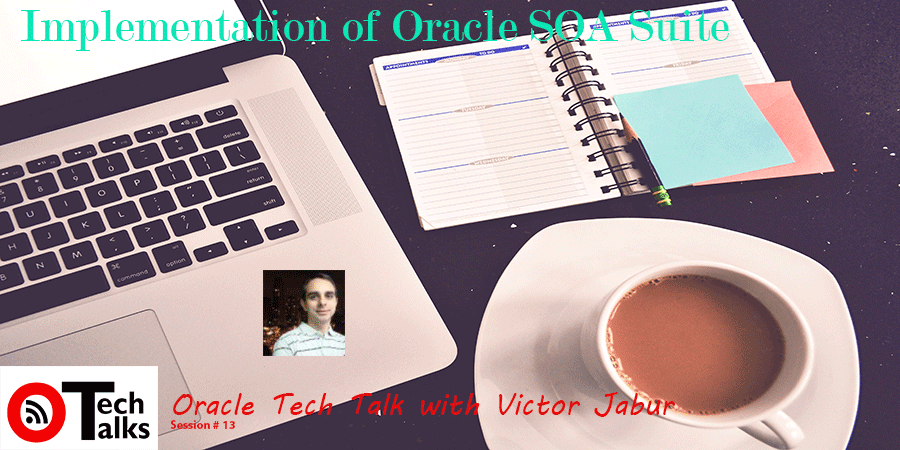 Podcast: Play in new window | Download | Embed
Subscribe: Apple Podcasts | Android | RSS | More
In this session guest speaker Victor Jabur will give tech talk on Oracle SOA Middleware products.
Our guest speaker Victor Jabur, SOA / Java Consultant, having Bachelor in Information Systems at University of Sao Paulo (USP). He works with Oracle SOA Products at Oracle Platinum Partner.
I would like thank you Victor on behalf OTechTalks community for sharing his experience with us.
IN THIS SESSION, WE WILL LEARN
Implementation of Oracle SOA Suite products in companies
Where to start ?
What are the benefits ?
What are the difficulties ?
What needs to be modified ?
Really worth the change ?
Victor has shared with about SOA suite ships with many products (BPEL, BPM, OSB, BAM, ADF), including tips on what and how to implement each module:
OSB: It should contain generic, reusable web services without any business rule, only routing and enrichment of messages.
BPEL: Light business flows, more complex rules must be implemented in any programming language and should be exposed as a service for a BPEL flow orchestration, this flow represent the business, and not contain details of development implementation.
BPM: It must contain only the manual business flow, without business rules, it must rely on previously services made, almost never access directly the database, generally require notification services, whether e-mail, sms, social networking and others.
BAM: Monitoring Dashboards cannot cause overhead on the transactional database to generate the graphics, the necessary information should be used as an asynchronous messaging, sensors embedded in bpels or a replicated database to make the queries.
ADF: Framework that will replace Forms in the near future, screens are written in Java using Java Server Faces (JSF), all new Oracle products are already made using adf, enterprise manager for example. In BPM Suite, adf is widely used, because the screens are automatically generated in this product.
LINKS AND RESOURCES MENTIONED IN THIS SESSION
Thank so much for Listening!
Join today OTechTalks.tv and Be Part of Tech Talk?
If you have some feedback/comments on this session or you want to suggest some new topic we should cover in future Podcast. Please leave a note in the comment section below!
If you enjoyed this episode and we together are learning new Oracle Technologies, please share it with other folks.
Also, please leave a candid review for the OTechTalks Podcast on iTunes! Your ratings and reviews will help the session on iTunes.
Please subscribe to the Podcast on iTunes to get automatic updates