Are You in love reading Oracle Technologies?
and you always thought that you should start a blog on your day to day learning, and you've thought about combining your expertise of Oracle and your love of blogs as a place to share your knowledge and learning with others.
Don't wait. Today is your day to start a Oracle blog!
I have got a chance to speak during Middle East Oracle User Group Majlis Annual Conference 2015, where i was owner-ed to speak on How to Start a Free Oracle Technology Blog and what are the benefits to Oracle Professionals. My session was part of Quick Fire sessions of Day-1 of the 7th Annual Conference of MEOUG at Atlantis, The Palm, Dubai. after the session i have got very good feedback and questions how we can start blogging so here i am sharing step by step process of blogging with community. In my views, This is YOUR Resume/CV, start blogging TODAY!
Put things on hold for the next 15 minutes and follow the three steps below. You'll be up and running with your own Oracle blog before you know it.
3-Steps to start blogging
Domain Name and Hosting
Installing WordPress
Branding it – GUI (appearance, look and feel)
1) Domain Name and Hosting
What do you want your domain name to be? OracleExperts.com, DBA.com, LearnOracle.com etc
Brainstorm as many different ideas as possible. Once you've got few of the names based on your passion of Oracle products/field, just go to Bluehost to see if your domain name is available by entering it in the box that looks like this: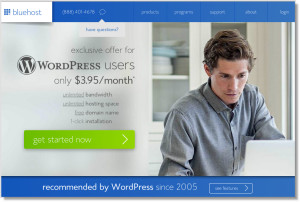 Next step will be to pick up Starter Plan, which is paid annually lump sum instead of monthly, just chose the starter plan so that you can pay for 1st year. With the domain name registration, we also require to host domain like renting a space on the web to reside your blog
The Domain Whois Privacy shields your personal address and phone number from being displayed to the public.
2) Installing WordPress
Once you've completed registration with Bluehost you'll need to go through the process of installing WordPress.
WordPress is a blogging software. It's the software that I use for OTechTalks.tv. The best part is that it's SUPER easy to use and install.
Login to Bluehost and find the Website Builders section. Click on the WordPress logo.
On the next page click the "Install" button in the "Do it yourself FREE" section.
Click the "Check Domain" button.
Check the terms and conditions box and then click the "Install Now" button.
Once you get the message that says "Your install is complete!" you'll want to click on the "View Credentials" button and write down your Admin URL, Username, and Password. You can change these to something more memorable later, but you'll need them for your first time logging in.
Type your Admin URL into your web browser. You'll see a login screen like the one below. Enter your Username and Password.
Now You've officially logged into your blog and you can start Blogging! WordPress is one of the world's largest blogging platforms and is used by both the top bloggers and beginners who are just starting out. This blog was built on WordPress from day one and I have found it easy to use.
Remember, if you 
sign up
 through this tutorial, you'll receive a special offer, as well as a free domain name for a year!