Oracle HCM Cloud provides HCM Data loader (HDL) to load build data into HCM application or build integration between 2 systems for inbound integration to HCM. You can read earlier post on this Oracle HCM Cloud – Inbound Integration through HCM Data Loader.
With the new release 12, two enhancements are made, 1- monitor the data load and 2- data load from spread sheets.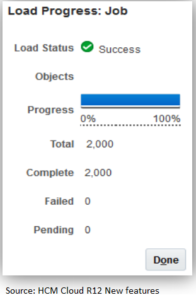 Now we can monitor the progress of HDL process on each business object. A new dialog box is added in detail section of the Import and Load data page, which shows the progress of the load like percentage of of the Load and number of objects already processed and estimated time for load to complete. This progress keep refreshing on every 15 seconds.