Will It Fly How to test your next business idea so you don't waste your time and money book written by Pat Flynn, During few months back my cousin based in Lahore, Pakistan was planning to start a business and he had a detailed discussion with me how to do a market research and his idea validation.
Based on my some surfing how to do a market research, i found this book Will It Fly and same time i was going on short vocation, thought to get this book so that i can take with me and it may help during the discussion with my cousin. after few thoughts finally i have ordered through Amazon and spent few days of my vocations on reading of this book.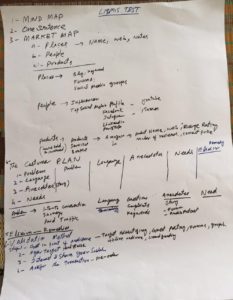 Overall Book is good and gave some very practical methods to do proper market research, document each and every step starting from passion, idea, mind map, market map, the customer P.L.A.N (problem, language, anecdotes, needs), remedies, validation method etc. We like the book and it helped to draw some practical discussions and reach on final conclusion. We named it "Litmus Test" and you can see some of our work on the screen shot.
Finally my cousin was able to launch his online business at Lahore, Pakistan. It is launch of online selling of designer/customized cakes for events with the brand name Cake Feasta
Personally i co-relate this book to Agile methodology of software development, the way now a days we are doing any software development or even any Oracle applications implementation project in Cloud Era by following agile method. In Agile Approach, we are doing with short phases of the actual project and going live with the each and every phase, we can name it like version 1.0, 2.0 so on. Each phase goes into Design, Build, Test & G0-Live Version 1.0, and again start for version 2.0

few of the top benefits of this approach are:
Mitigate risk and business change
Opportunity for quick business wins
Define and prove out the solution in small steps
Build skills and expertise
Coordination & Communication
Back to the topic of book 🙂 Personally i like the book and strongly recommend if you are looking for to test any business idea. a good read for your weekend or vocations.