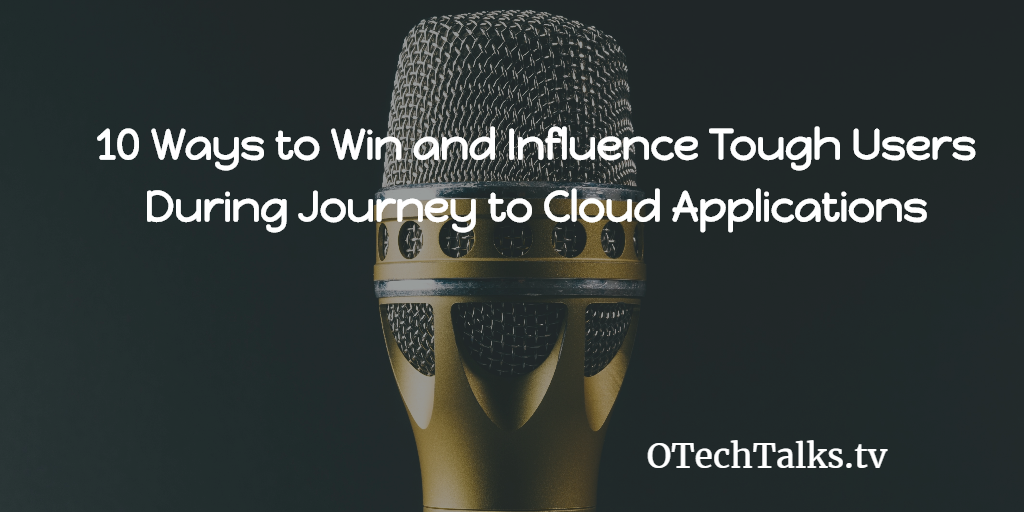 Podcast: Play in new window | Download | Embed
Subscribe: Apple Podcasts | Android | RSS | More
In this session we will be discussing how to Win and Influence Tough Users During Journey to Cloud Applications. As we are moving on-premise enterprise applications to cloud and within the organization we are running digital transformation projects to cope with the latest trends and business requirement. The major impact is how to manage change management during these transformational projects and when we are talking about typically enterprise applications, it has huge impact due to the way new cloud applications works and the functionality of what they provide.
Based on experience and research i have shared my thoughts, what are the strategies we will be following to win the heart of our business users and how to lead the project of transformation.
LINKS AND RESOURCES MENTIONED IN THIS SESSION:
Thank so much for Listening! Join today OTechTalks.tv and Be Part of Tech Talk?
If you have some feedback/comments on this session or you want to suggest some new topic we should cover in future Podcast. Please leave a note in the comment section below!

If you enjoyed this episode and we together are learning new Oracle Technologies, please share it with other folks.

Also, please leave a candid review for the OTechTalks Podcast on iTunes! Your ratings and reviews will help the session on iTunes.

Please subscribe to the Podcast on iTunes to get automatic updates